Does Printing Make You a Better Editor?
A case for practice makes perfect.
Several months after one of our annual Portfolio Development weekend workshops, one of the participants also took one of our one-day workshops. During the lunch break, while we all sat around talking, this client reported that ever since he took the Portfolio workshop he felt he had become a far better editor of his work. Interesting.
Bob and I were not in the least bit surprised. It's true that putting together a portfolio of one's work is a challenging endeavor. We have always maintained that the golden take-away from the Portfolio workshop is not the gorgeous boxed and fine art quality prints of the portfolio. It is actually learning the process of self-editing, which nearly every pro photographer will tell you is a daunting task.
Paper Arts Collective Newsletter is a reader-supported publication. To receive new posts and support my work, consider becoming a free or paid subscriber.
Portfolio or Print?
The real question I want to address here is whether just the art of printing itself helps you be a better editor of your work. Based on fifty years in the field, I say it does.
Allow me to start with a personal journey. For the early part of my career I did editorial photography, shooting for magazines, newspapers and such. While I was proud of my work, I would not call it exceptional. What my editors wanted were images, not excuses, so one learns what the money shots are, you grab them quickly and move on. Of course in those days we were limited by film rolls and single shots, so we had to be somewhat discerning in image selection.
Today, it's easy to skip that pesky discerning barrier. Don't waste time. Cards hold ginormous amounts of data, so taking a few hundred shots of one locale is nothing to sweat over. Just take scads of pics and see what sticks!
Evolution
Over the past two decades my approach has evolved. I'll say that probably 80% of that evolution has been driven by my fine art printing. Printing an image, then studying it, forces one to be more mindful. A print should make a statement, tell a story, cause viewers to stop, think, and have a reaction. That thoughtful process makes you a more mindful artist.
Today when I go out to shoot, I think in terms of the final output... the print. As I assess the subject in front of me, I'm thinking: Will this make a good print, maybe even a spectacular one? My workflow journey doesn't end with a post-processed image viewed on my monitor, smart phone or someone's Instagram feed. It ends with an appropriately displayed print (and displaying prints is a topic we cover here).
I've given up DSLRs in favor of medium format, currently the Fujifilm GFX system, which I love. My GFX 100 has a maximum speed of 5 frames per second. Yes, a measly five, but that's usually 4 FPS more than I need.
What this means is that I often get to a subject, assess it and walk away without ever taking a shot. The scene may be too busy for a good print, or not have the tonal gradations I'm looking for, especially when I'm shooting B&W. It's hard to estimate how many hours of needless culling and pointless post-processing I've saved with this approach, but it's pretty significant. Sure, I may have missed some good captures, but the ones I do get I'm quite certain will make good to excellent prints.
Is my approach honed to a robotized sequence? I hope not. There are times where I'll admittedly take some shots that I wouldn't ordinarily take while waiting for others to finish a shoot, because I'm bored, stuck someplace I did not choose to be, etc. But I believe - strongly - that if you look at your prints as the final product of your photography, your editing skills will improve, as will your art.
I'd love to hear your stories of how you feel making prints has helped your photography... or not.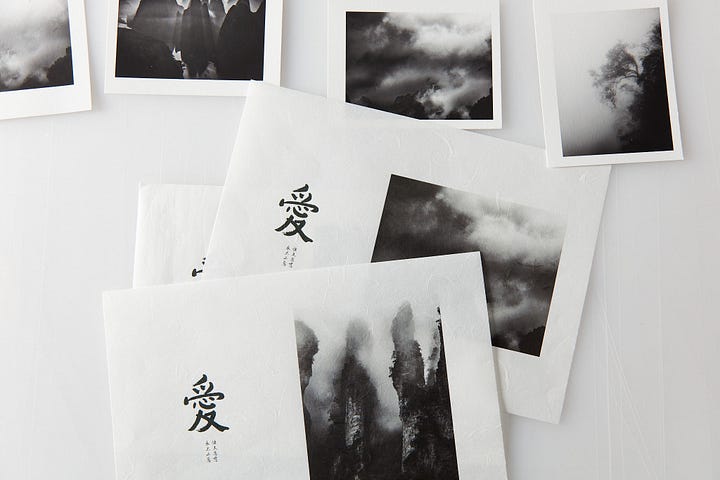 Paper Arts Collective Newsletter is a reader-supported publication. To receive new posts and support my work, consider becoming a free or paid subscriber.